Nano Emulsion Fuel System
Nano Emulsion Fuel Manufacturing System (NEFS) can be used easily by installing in the existing combustion process. The standard type of NEFS can cope with wide-range of fuel composition, and has monitoring function of volume of produced fuel and to notice maintenance cycle at remote site.
■ NEFS has been certified as Cutting-edge equipment of "Productivity Improvement Capital Investment Promotion Tax System" by The Japan Society of Industrial Machinery Manufacturers. Preferential taxation is applied when newly introduce NEFS by Japan domestic users, which is available for immediate amortization or apply a maximum of 5% tax credit deduction of acquisition value.
■ NOx Reduction Measures in the shipping industry
In the global transportation industry, the technology of EGR and SCR is evaluated in order to meet the standards of International Maritime Organization Tier III NOx regulation applied newly from January 2016, however there are still many issues to be solved on both technologies and at the time being our Nano-Emulsion fuel technology attracts big attention as large cost benefits of NOx reduction measures, also measures to clear severe environmental standards are groped for a combination of Nano-Emulsion fuel with SCR or EGR.
■ NOx Reduction Measures in land-use
Also in the land, including thermal power plants, manufacturing factories and   plants such as using boilers, waste incinerators on burning, synthetic and  decomposition  process receive NOx regulations of the municipality by the Air Pollution Control Act. Our Nano-Emulsion fuel will be the most excellent measures to achieve NOx reduction and fuel saving at the same time.
■ Dominant PM emission reduction measures
The PM is a general term for air pollutants particles called particulate matter. Above all, the impact is greater on the human body due to unburned fuel contained in exhaust gas by combustion, and including Japan it has become subject to regulation in most of the developed countries which was further closed-up recently on PM 2.5 of China. 
Our Nano-Emulsion fuel can largely reduce PM in diesel engines, boilers and industrial furnaces. For example, PM to be discharged in a large engine may have differ characteristic by its load (output). Nano-Emulsion fuel can reduce approximately 90% at the maximum and it is extremely effective to suppress PM with all load.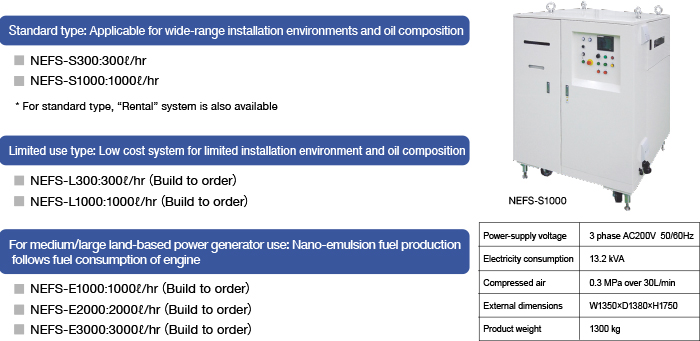 Surfactant dedicated for Nano Emulsion Fuel
Surfactants exclusively used for Nano Emulsion Fuel with types depending on the intended use.